Picnic Spots Near Delhi NCR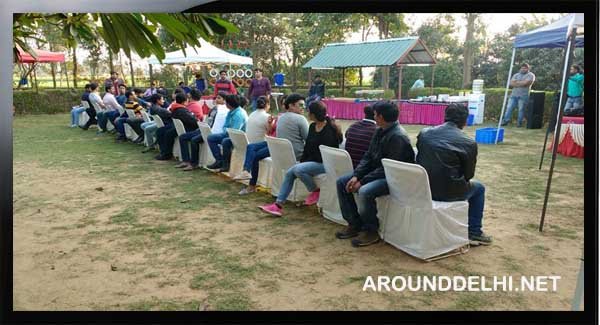 Day Picnic Near Delhi Team Outing & Offsite
Getting Away from the hectic life in the city usually requires a lot of planning. You need to take some time off work, make bookings and also figure out what you want to do during your vacation. Well, not anymore.
Ananta Group has brought together some of the best picnic spots in Delhi and has created amazing packages that work perfectly for Families, School and large groups from Corporates as well near Delhi Gurgaon. we organized school picnic, corporate picnic near Delhi Gurgaon. These picnic spots offer a host of activities that you can try and enjoy with the whole group. There are also some options where you can rejuvenate in a secluded, quaint resort or holiday home when you plan a day outing near Delhi. With these picnic areas near Delhi NCR, you have the option of planning an overnight stay as well. Simply contact Day Picnic and leave your planning to them. Even for large groups, ample accommodation is available making it possible for you to plan more team building activities.
 Resorts Near Delhi NCR
INR 1050/- Per Person
INR 1200/-* Per Person
Village Masti Gurgaon
Botanix Nature Resort
Gurgaon Haryana
Read More…….
Damdama Village,Near Damdama Lake, on Damdam Sohna Road, Tehsil Sohna,
Dist. Gurgaon,Haryana Read More………
INR 800/-* Per Person
INR 950/-* Per Person
Club Platinum Resort
Dream Island Resort
Asauda Turning,Delhi Rohtak Highway,
Bahadurgarh, Haryana.
Damdama Village,Near Damdama Lake,
on Damdama
Sohna Road,Haryana
Read More……
INR 1499/-* Per Person
INR 1200/-* Per Person
Camp Wild Dhauj
Awara Adventure Farm
Adventure Resorts Faridabad, Haryana
Read More……
Aravali Retreat, Village Raisina, Dist – Gurgaon Haryana, Gurgaon, Haryana
Read More……
INR 1325/-* Per Person
INR 950/-* Per Person
Same Day Delhi Darshan
Chail Weekend Package
INR 1325/- Per person for Delhi Darshan
Read More…….
Chail Weekend Package, Tarika's Jungal Retreat
Read More……
 INR 1399/- Per Person per
Pool Party Near Delhi
Pool Party Near Delhi.         Read More……
 Destinations near New Delhi for weekend holidays.
Listed below are some of the best spots to plan a day picnic near Delhi, Gurgaon and surrounding areas. You can get exclusive packages with these resorts that will fit perfectly in any budget that you have in mind.
Botaix Nature resort: If you are planning a school day picnic or corporate outing, this is the ideal location. You have access to some of the best theme gardens and nature trails that are also suitable for camping.
Sohna resorts: Luxurious rooms with private lakes are the specialty of this resort. You can also enjoy facilities like a beautiful spa and sprawling gardens while you are here. This is where you can plan a trip if you only want to get pampered and relax.
We also offer more one day Picnic packages, day picnic and overnight packages at resorts such as Resort Country Club, Splash Damdama Lake, Golden Huts, Classic Golf Resort Gurgaon and many others. You can also opt for spending some fun-filled time at water parks or theme resorts around Delhi.
Special Corporate Picnic Packages
Exclusively designed packages are available for corporates to plan their employee engagement activities. The productivity of a corporate depends entirely on how well the employees are able to interact with one another. Team building activities and group outings are the best way to do this. It is also a great way to keep your employees motivated as they get a chance to rejuvenate and get some time off work.
There are several beautiful resort within our collaborations that have the facilities to entertain large groups and ensure that they have a good time. Some popular choices include Golden Huts, Resort Country Club, Country Inn, Damdama Lake, Surjivan Resort, Heritage Village Manesar and Classic Golf Resort Gurgaon. These resorts are located at a convenient distance from the Delhi NCR area and are, therefore, ideal for day picnics or an overnight stay.
---
Team building Activities
Special team building activities are also a part of the corporate package itinerary. You can achieve results like conflict resolution, better team work and also improved, confidence, leadership and communication skills with activities like Perfect squire, Ice breaking, spider web and beam balancing.
These activities are a lot of fun and are based on special learning themes such as:
High performance and confidence
Building trust
Team work
Skills that can be used at work

We can help you with everything that you need from choosing the activities to booking and executing the trip for small groups as well as large corporate groups.
Leadership & Team-work
Individual Empowerment
Building Trust & Team-Bonding
Custom Designed programmes that impact
High-Performance & Confidence
Imbibe the tools learnt to apply back in the Work-place
---
Booking Contact:-
---
Ananta Hospitality
Plot No.2 1st Floor, street No.7 A Block West Sant Nagar Burari
Landmark- Rani Public School Delhi- 110084
Mobile: +91-8285017060
+91-9899537060
Landline No : +91-11-65242473
E-mail: info@anantagroup.com