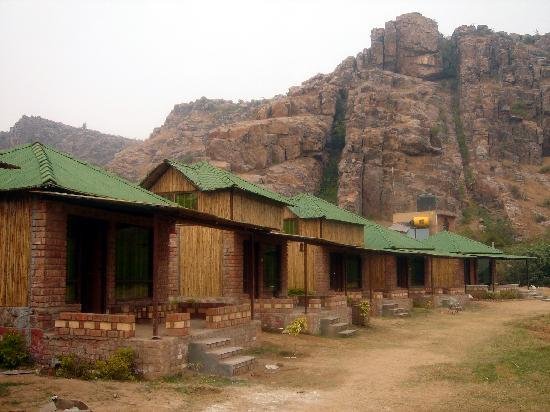 People who look for camping sites near Delhi often prefer Dhauj and hit our deluxe lodge here. Those who search for amazing camping sites in places like Dhauj have almost learn our lodge's name by heart. A Mangar village sitting on Faridabad District, Haryana, Dhauj serves as the perfect destination for a number of thrilling and exciting adventure and camping activities.
Our resort, which is in operation for a year almost, has been successful in being the perfect stop of the adventure, camping and travel enthusiasts coming from across the nation. Rested 7kms from Delhi and at the foot of the Aravalli Hills, our eco-lodge at Dhauj welcomes individual guests and corporate employees all throughout the week to rejuvenate their souls over some amazing camping activities. With a wild ambience and a serene rural farm life all around, our lodge is spread over 12 acres of land.
We offer all kinds of adventure activities here related to water, air and land. You can come over anytime can relax at out highly spacious and tranquil deluxe eco-lodges at Camp Wild. Our adventure camp is situated on one of the oldest eco system zones of the world known as Camp Wild.
We promise to give you delightful experience while you enjoy the host of activities here like river crossing, rock climbing, private forest, raft building, cycling, zorbing, cliff jumping, and a number of other team building activities. Our activities and team building programs are specifically aimed to motivate our corporate clients and inculcate the value of team playing.
Activity Available In Resort On Extra Cost Basis

Adventure Activities – @ Rs 350/- per activity
Natural Rock Climbing
Rappelling
Artificial Rock Wall
Tryoleane Traverse
Specialized Adventure
Raft Building (Seasonal) – RS 300.00 P/Person
Cliff Jump – RS-350.00 P/Person
Zorbing – RS 9000.00 P/session
Paint Ball – RS 650.00 P/Person
Obstacle Course
 Burmah Bridge
 Tarzan Swing
 Commando Net
 Balance Walk
 Tunnel Crawl
 Monkey Crawl
 Cat Walk
 Parallel Ropes
Luncheon Picnic:
Cost per person for day conference:- Rs 750/ +Taxes.
Price Includes:
Welcome drink  on arrival
Buffet lunch Veg/Non Veg
Complimentary recreational facilities like within the resort like like Volley Ball, Ludo, Carom Football,
Cricket,   Kabaddi, etc.
Evening tea with cookies & Fryums Or Pakoras.
2 team building game
Entry to the Obstacle Park:  Burma Bridge, Tarzen Swing, Commando Net, Balance Walk, Monkey Crawl, Cat
Walk And Mogli Walk.
Two adventure activity – Artificial Wall Climbing And Rappelling .
Site Map Of Camp Wild Dhauj